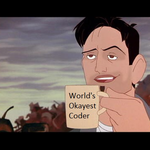 Stefan K
(@
StefanK

)

Getting better at programming is a quintessential human experience: you find that someone a long time ago had the same problem you currently have, and also that there's still no solution for it.
Centre College

United States

java, java8, python
Badges
Submissions
User has not solved any challenges yet.
Contest History
User has not participated in any contests yet.
Discussions
User doesn't have any discussions yet.