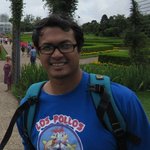 0
0
2
ANUPAM GOGOI
(@
anupamgogoi

)

I am an Indian born Brazil naturalized guy living and breathing Java.I never liked the algorithms in my graduation but after joining Hackerrank, they really seem exciting. Here I am to meet all those awesome hackers around the world and to share knowledge. Thanks !!!
BRISA

National Institute of Technology, Surat

Brazil

java8, java, c
Badges
Submissions
User has not solved any challenges yet.
Contest History
0
0
2
User has not participated in any contests yet.
Discussions
User doesn't have any discussions yet.