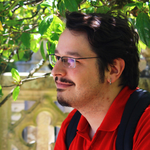 Stev Leibelt
(@
artodeto

)

FOSS developer who likes free as in freedom more than a free beer. Domain Driven Design, Non Violent Communication, Egoless Programming, Pair Programming, SOLID, DRY, KISS ... so many things and Ideas I like to use day in and day out.
Badges
artodeto has not unlocked any badges yet.
Submissions
User has not solved any challenges yet.
Contest History
User has not participated in any contests yet.
Discussions
User doesn't have any discussions yet.