We use cookies to ensure you have the best browsing experience on our website. Please read our
cookie policy
for more information about how we use cookies.
September 13th - 15th 2021
HackerRank Fall Career Fair
During HackerRank's 2-day online career fair, you can discover jobs 
at coveted tech companies, earn skill certifications to show to recruiters, and compete in coding contests with attendees from across the U.S.
Open to students and early career professionals from the United States
Why HackerRank Career Fair?
The future of campus recruiting is virtual. We make it easier for you to connect with a wider range university recruiters without having to attend an in-person career fair.
Fully Online Career Fair

Check out top tech companies without having to leave your computer.

Skills-First Experience

Earn HackerRank skill credentials and build a robust technical profile to show recruiters.

Meet Top Recruiters

Interact with companies across the country who may not visit your school this Spring.

Virtual Events

Attend tech talks, recruiter AMAs, and sign up for 1:1s designed to help you maximize your job prospects.
Some numbers from last year
Schedule
We have quite a few exciting events coming up for the Fall 2021 Virtual Career Fair. As we get closer we will be releasing more details.
10AM - 11AM
Keynote
Join us in the morning to hear from our Keynote speaker about how to pursue internships and jobs.
11AM - 5PM
Tech Talks
In the afternoon learn about interesting tech, company culture, and more from engineers and other team members.
Here is how it works
Come meet with recruiters at over 30 different companies.
Build your Profile and show off your Skills
Meet recruiters looking to hire for internships and full-time jobs and show off your skills through HackerRank certifications.
Participate in contests to stand out to recruiters across the country.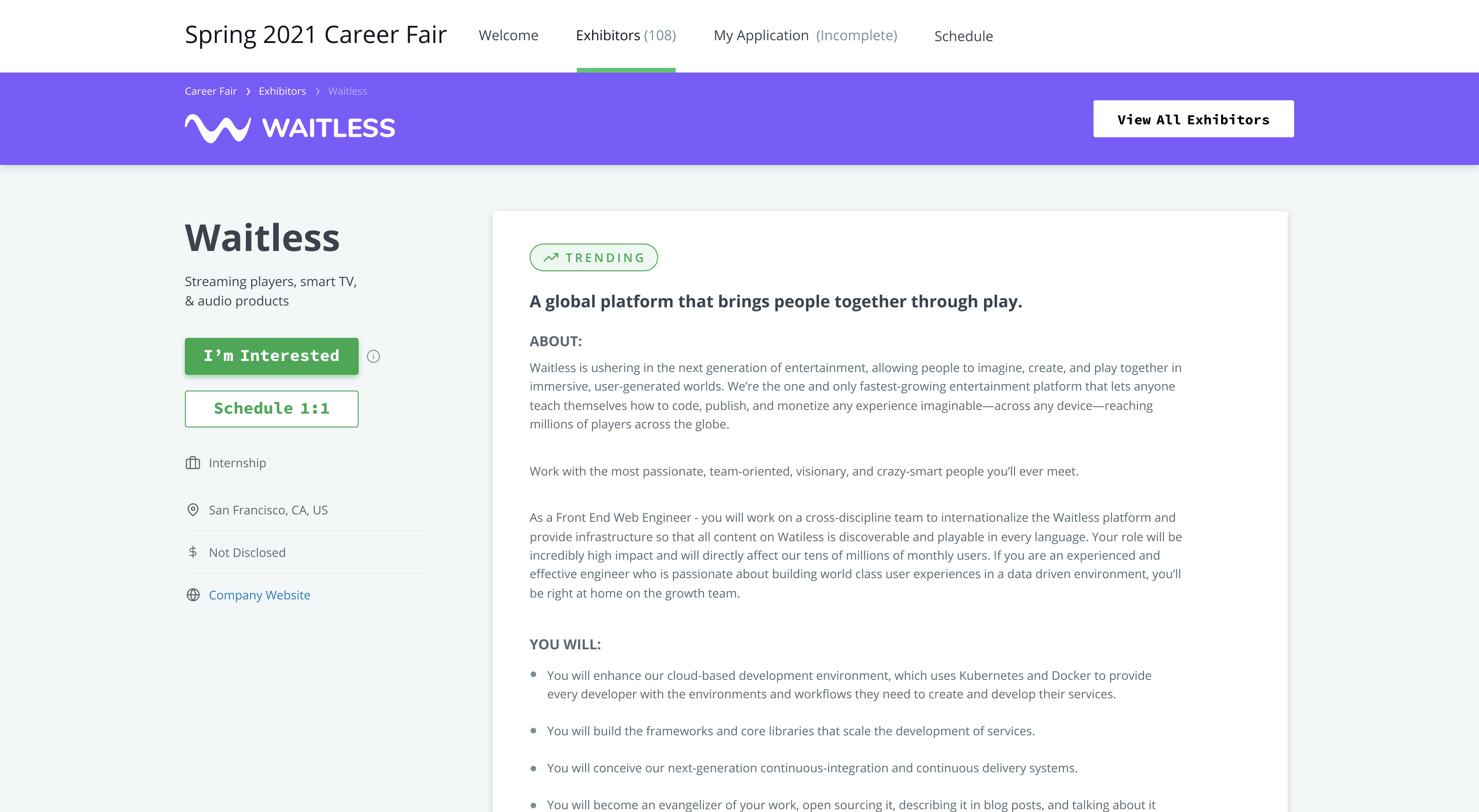 View Company Profiles & meet Recruiters at tech talks & AMAs
Learn about companies and job opportunities that may not come to your campus.
Get to know recruiters through live AMAs, tech talks, panels, and 1:1 sessions.
Select your top 10 companies
Select up to 10 companies that you would like to work at during the fair and get in front of their recruiters with one click.

Over 10,000 students
trust HackerRank to get their dream jobs
"Thanks to the work of all involved in the career fairs, I connected with tons of employers and got 20+ interviews. This journey led me to a confirmed offer as an SWE intern this summer at Walmart Labs! "
Luke
San Jose State University
Do you have more questions? Check out our FAQs