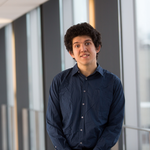 Gregory Desrosiers
(@
gdesrosi

)

LinkedIn Profile: https://www.linkedin.com/in/gregorydesrosiers GitHub Profile: https://www.github.com/GregPDesSCH Game Dev Demo Reel: https://www.youtube.com/watch?v=qSpifCIW5T8 Two years' experience with Java, one and a half years experience with HTML, and over 1 year of experience with CSS.
University of Waterloo

Champlain College Saint-Lambert

Canada

cpp, ruby, cpp14
Badges
Submissions
User has not solved any challenges yet.
Contest History
User has not participated in any contests yet.
Discussions
User doesn't have any discussions yet.