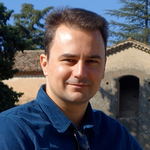 (@
krige

)

PhD in Computer Engineering. Research fellow and teaching assistant of concurrent programming and object oriented programming at the Università della Calabria.
Department of Electronics, Computer Science and Systems of the University of Calabria

Università della Calabria

Italy

java, java8, c
Badges
krige has not unlocked any badges yet.
Submissions
User has not solved any challenges yet.
Contest History
User has not participated in any contests yet.
Discussions
User doesn't have any discussions yet.