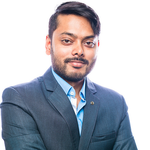 kunal krishna
(@
kunal12899

)

Computer Science Master Student with 4 year of work Experience.
Copart

The University of Texas at Dallas

United States

java, python, python3
Badges
kunal12899 has not unlocked any badges yet.
Submissions
User has not solved any challenges yet.
Contest History
User has not participated in any contests yet.
Discussions
User doesn't have any discussions yet.