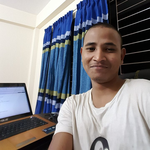 Porimol Chandro
(@
porimol

)

I am a CSE Undergraduate student, *nix fan, open source enthusiast, self motivated software developer. I like to cycling, cooking, music and watching movie. I also love to contribute open source projects. I would love to conribute to any challenging opportunities. I am addict to PHP, Python, Java Script, C, C++ and Java programming. I love to spend my free time to do experiment on new technologies.
Sohoz Technology Ltd

World University of Bangladesh (WUB), Dhāka

Bangladesh

python3, mysql, python
Badges
Submissions
User has not solved any challenges yet.
Contest History
User has not participated in any contests yet.
Discussions
User doesn't have any discussions yet.