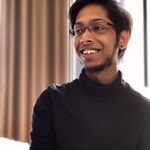 0
3
4
Roshnal Lihinikadu
(@
roshnal

)

A geek who loves programming, traveling, movies, food, and cocktails.
Universitätsmedizin, Mainz

Johannes-Gutenberg Universität Mainz, Mainz

Germany

cpp, python3, java
Badges
Submissions
User has not solved any challenges yet.
Contest History
0
3
4
User has not participated in any contests yet.
Discussions
User doesn't have any discussions yet.