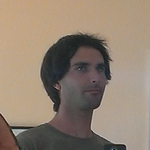 0
0
1
Brian Cottrell
(@
BrianCottrell

)

I am a software developer with a background in physics an a current focus on web development. I am most interested in programming project that include challenging mathematics problems.
Aergrow

University of California, Santa Barbara, Santa Barbara

United States

ruby, javascript, cpp
Badges
Submissions
User has not solved any challenges yet.
Contest History
0
0
1
User has not participated in any contests yet.
Discussions
User doesn't have any discussions yet.