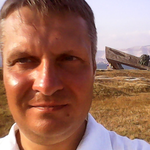 Dimitri Golubev
(@
Dimitri777

)

Hello everybody and welcome! I am glad to see you here. Little bit about myself - I have been in IT for 18 years (40 y.o. now) and I love it. My passions are web development, algorithms, artificial intelligence and Python is my favourite programming language. Beside programming, I love traveling, attending different places of interest like museums, exhibitions, theaters.
Badges
Submissions
User has not solved any challenges yet.
Contest History
User has not participated in any contests yet.
Discussions
User doesn't have any discussions yet.