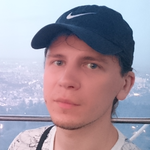 11
4
1
Ivan Zaitsau
(@
HellFalcon

)

In a school took absolute 1st place in Gomel city Math olympiads 3 times in a row (in last years of studies). Since 2001 studied Applied Math at Francisk Skorina Gomel State University. As a member of university team participated in 1/4 and 1/2 of ACM ICPC in Minsk and Saint Petersburg. In 2006 graduated from university with Specialist degree + teaching credential.
Upwork (formerly Elance-oDesk)

Francisk Scorina Gomel State University

Belarus

java, scala, java8
Badges
Submissions
User has not solved any challenges yet.
Contest History
11
4
1
User has not participated in any contests yet.
Discussions
User doesn't have any discussions yet.