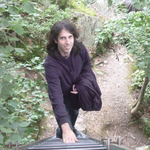 0
0
1
Fabian Pijcke
(@
Shepi

)

Hi ! After a mathematical-oriented high-school education, I studied computer science at UMONS in Belgium. Earned my Msc. and soon (I hope!) my PhD in database theory. I love to challenge myself, which explains my presence here.
Cogen

UMONS

Belgium

ocaml, python3, bash
Badges
Submissions
User has not solved any challenges yet.
Contest History
0
0
1
User has not participated in any contests yet.
Discussions
User doesn't have any discussions yet.