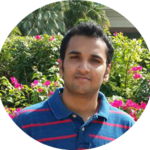 Dhwanil Vyas
(@
dhwanilvyas

)

A geek who is always keen to learn new things and meet new people.
-

DAIICT, Gandhinagar (Dhirubhai Ambani Institute of Information and Communication Technology)

India

python, java8, java
Badges
Submissions
User has not solved any challenges yet.
Contest History
User has not participated in any contests yet.
Discussions
User doesn't have any discussions yet.