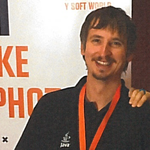 5
11
6
Tomas Kytlica
(@
joshuapixla

)

I started to learn programming in 27, so I need to confirm, that it is never too late to start doing something.
Tieto

University of Ostrava, Ostrava

Czech Republic

java, java8, javascript
Badges
Submissions
User has not solved any challenges yet.
Contest History
5
11
6
User has not participated in any contests yet.
Discussions
User doesn't have any discussions yet.