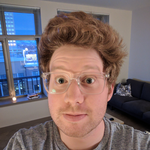 0
0
1
Miles Ramsey
(@
milesramsey

)

Programmer, recent college graduate. I consider the day a waste if I haven't learned something new. Currently job hunting, learning MongoDB, and working on my Python. Currently reading Head First Design Patterns, Head First HTML with CSS (because why not), and Princess of Mars.
Salesforce

University of Utah, Salt Lake City

United States

java8, java, python3
Badges
Submissions
User has not solved any challenges yet.
Contest History
0
0
1
User has not participated in any contests yet.
Discussions
User doesn't have any discussions yet.