Largest Rectangle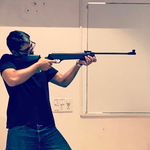 by shashank21j
There are buildings in a certain two-dimensional landscape. Each building has a height given by . If you join adjacent buildings, they will form a solid rectangle of area .
Given buildings, find the greatest such solid area formed by consecutive buildings.
The first line contains , the number of buildings.
The second line contains space-separated integers, each representing the height of a building.
Print a long integer representing the maximum area of rectangle formed.
An illustration of the test case follows.